National Teach Ag Day - September 15, 2022
The annual National Teach Ag Day celebration will take place on Thursday, September 15, 2022. National Teach Ag Day is designed to encourage others to teach school-based agriculture and recognize the important role that agriculture teachers play in our schools and communities. To learn more, visit the National Teach Ag Website.
What is AgEd?
Agricultural education teaches students about agriculture, food, and natural resources. Through these subjects, agricultural educators teach students a wide variety of skills, including science, math, communications, leadership, management, and technology.
Agricultural education is delivered through three interconnected components: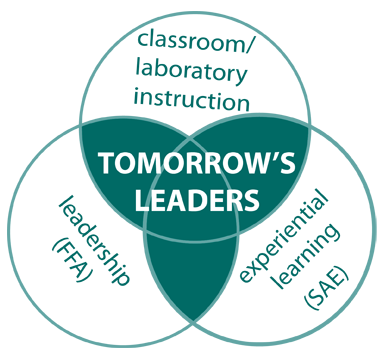 Many high school agriculture programs use FFA to enhance the leadership and experiential learning portions of their program. To learn more about FFA and its influence on agricultural education, visit www.ffa.org.
Become an Ag Teacher in PA
Pick your pathway to the best career ever!
The Pennsylvania Department of Education requires the following to become certified to teach agriculture education in PA:
Have a 3.0 GPA during undergraduate studies
Pass a series of PAPA pre-certification teacher examinations required in PA
Have documentation of at least 80 hours of volunteer or paid education work experience with learners of the age group the candidate plans to teach. At least 40 of these age-appropriate 80 hours must be with learners whose cultural, social, or ethnic backgrounds differ from the candidate's own.
Complete an early field experience, with the cooperating teacher at the designated school. This is specified by the certification program.
Complete at least 48 semester credit hours literature
Secure a student teaching experience in the requested area of certification.
CPR and First Aid Certification
Background checks
All candidates seeking initial certification must complete an application for the appropriate certificate, which does require a physical examination by a physician licensed to practice in Pennsylvania.
Also, an application fee, made payable to the Commonwealth of Pennsylvania, is required.
Resources for Future Teachers
Where ever you are in your journey to become an Ag Teacher, the National Association of Agricultural Educators website has great resources and information to help you along the way.

High School Student
Current College Student
College Graduate
Pennsylvania Ag Educators Association
PAAE advocates for agricultural education, provide professional development for agricultural educators and work to recruit and retain agricultural educators in the profession. They offer a variety of programs and services to support this three-pronged mission. Please visit the "PAAE" tab for more information.