Teach Ag Pathways

Click image to view in full size or to download PDF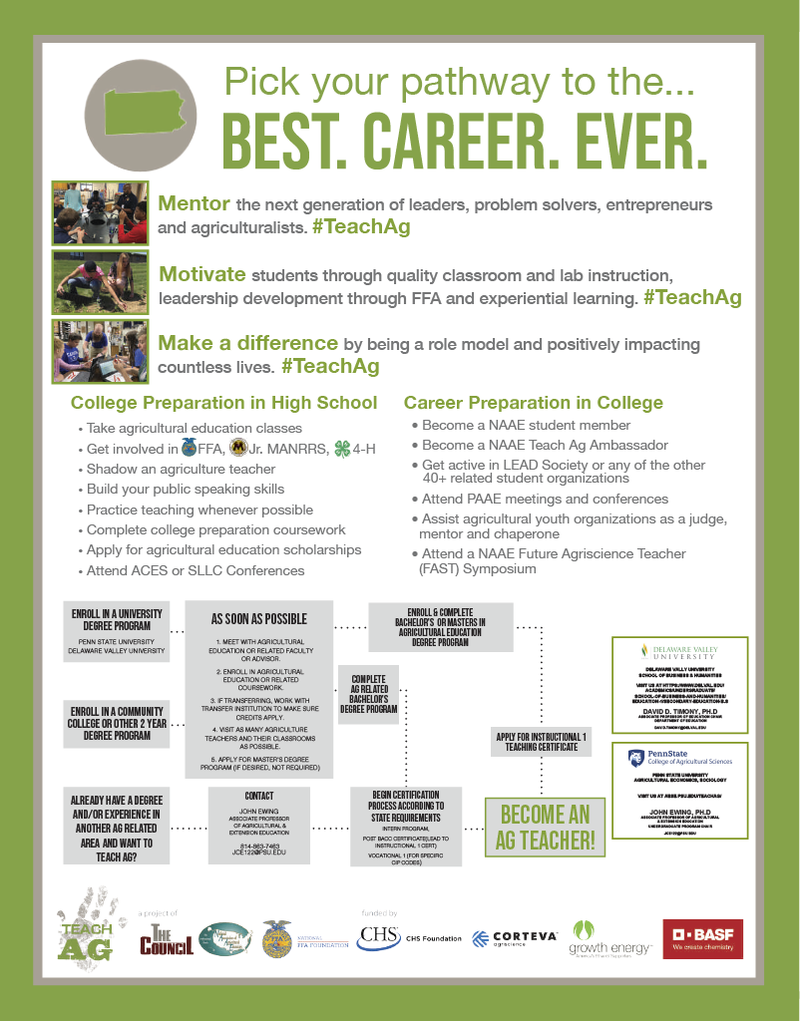 The Think F.A.S.T. (Farm & Ag Safety Training) program is an initiative from Farm Bureau designed to proactively address on-farm safety concerns for youth. The program materials are free to members and non-members and are tailored for audiences 14- to 17-years old and focus on general safety, leadership, and critical thinking skills applied to technical and agriculture-specific contexts.
The program includes 10 modules that take 10 minutes each to complete along with follow-up competency quizzes. There are both online self-paced and in-person direct instruction options for Core Safety Skills and Technical Safety Skills.
Download the Curriculum Guide for Classroom & Workshop Settings by clicking on Think F.A.S.T above.
The Ag & Food Career Guide is a way to familiarize yourself and connect with some of the top organizations in agriculture and food. The guide contains helpful tips to use on your career journey.
The 2020-21 Pennsylvania FFA State Officer Team invites you to explore the Pennsylvania Agriculture and Food Careers website. Users will find job responsibilities, education requirements, job outlook, and more. The website also contains videos featuring actual workers discussing what they like about their job and describing the skills necessary to be successful. Teachers will appreciate the teacher resources page which includes lesson plans!
National FFA pulled together resources to assist educators who may be struggling with content for online learning. This website contains tips and tricks on distance learning, as well as lesson plans and student activity sheets.
Who will feed us?
Farmers for America addresses this question head-on as it traces the remarkable shifts coming to American agriculture as more and more consumers flock to farmers' markets, embrace farm-to-table lifestyles, and insist on knowing where their food comes from. At the center of the film are the farmers, young and old, who provide the spirit and energy to bring urban and rural America together over what both share in common: our food. A password is needed to access this content including the curriculum guide. Contact Andrea Isenberg via email or (717) 943-4013 for the password.
National FFA provides free teacher resources that are in alignment with identified career focus areas.