Thank You to Our Learning by Doing Partners!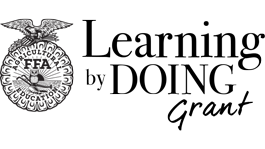 We believe agricultural education students should have the maximum opportunity to grow and succeed, leaving high school as prepared as is possible for the world ahead. That's why we believe in enhancing the curriculum, the opportunities, and the tools available in agricultural education classrooms through the Learning by Doing Grants. There are three types of grants available through the Learning by Doing Grant program: grants for students to develop their Supervised Agricultural Experience, grants for FFA chapters to provide classroom materials that further agricultural instruction or fund community service projects, and grants for agriculture teachers for professional development or teaching materials.

The Foundation has awarded $186,000 to support agriculture education through the Learning by Doing Grant program over the last 6 years. With the support of Pioneer Seeds, Farm and Home Foundation of Lancaster, Ag Choice and MidAtlantic Farm Credit, Lancaster Ag Council, Bell & Evans, Farm Credit Foundation for Agricultural Advancement, and concessions sales at Ag Progress Days and PA Farm Show, the Pennsylvania FFA Foundation was very excited to award $30,000 in Fall 2020, to Learning by Doing Grant winners. With the generous support of The Pennsylvania Commission for Ag Excellence and the Philadelphia Society for Promoting Agriculture, the Pennsylvania FFA Foundation was able to offer a second grant opportunity to FFA members, advisors, and chapters in the Spring of 2021. The total amount of Learning by Doing Grant money awarded during the 2020-2021 fiscal year was over $58,000 an increase of $36,000 from the 2019-2020 fiscal year.
The spring round of Learning by Doing Grant applications were a success, with many applications from members, educators, and local chapters. Grant applications were very high quality and the review process was very tough for our judging panel of 12 volunteers. The Pennsylvania FFA Foundation worked hard to increase support to be able to award over $25,000 in grants during this cycle.
Grant applications are judged by a group of volunteers including Pennsylvania FFA Foundation Trustees, retired agricultural education instructors, and industry leaders. Applicant names and schools are removed from the application prior to being sent to the judges which allows applications to be judged solely on criteria outlined in the scorecard.
Online Applications
FFA Members for SAE Projects: Coming Fall 2022
FFA Chapter: Coming Fall 2022
Agriculture Educators: Coming Fall 2022
Due Date: May 1, 2022
Grants Awarded: May 13, 2022
Reporting Due: September 1, 2022
Recognition: FFA Summer Convention
Additional Resources:
Spring 2022 Learning by Doing Flyer
Score Card
Fall 2021 Learning By Doing Recipients Reporting Form
Spring 2022 Learning by Doing Recipients Reporting Form
Advisor's Signature Page
Donation Claim Form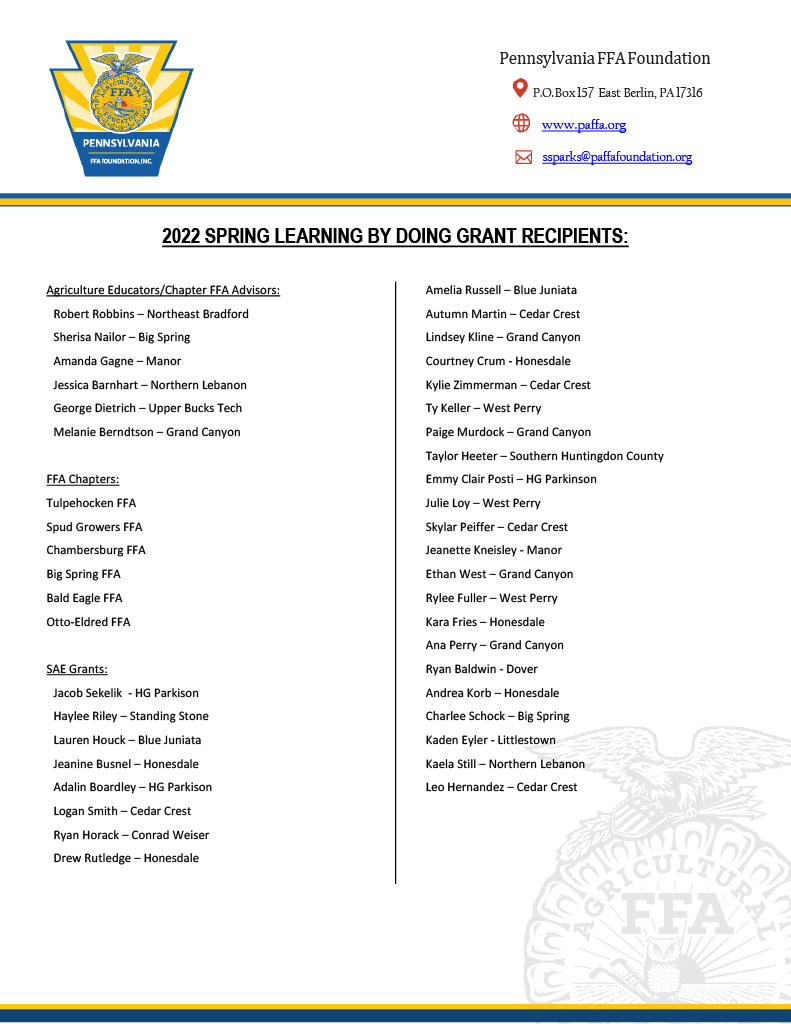 Learning by Doing Success Stories