Thank You to Our Learning by Doing Partners!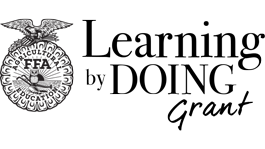 We believe agricultural education students should have the maximum opportunity to grow and succeed, leaving high school as prepared as is possible for the world ahead. That's why we believe in enhancing the curriculum, the opportunities, and the tools available in agricultural education classrooms through the Learning by Doing Grants. There are three types of grants available through the Learning By Doing Grant program: grants for students to develop their Supervised Agricultural Experience, grants for FFA chapters to provide classroom materials that further agricultural instruction or fund community service projects, and grants for agriculture teachers for professional development or teaching materials.

The Foundation has awarded $124,962 to support agriculture education through the Learning By Doing Grant program over the last 6 years. With the support of Pioneer Seeds, Farm and Home Foundation of Lancaster, Ag Choice and MidAtlantic Farm Credit, Lancaster Ag Council, Bell & Evans, Farm Credit Foundation for Agricultural Advancement, and concessions sales at Ag Progress Days and PA Farm Show, the Pennsylvania FFA Foundation was very excited to award $30,000 in Fall 2020, to Learning By Doing Grant winners. With the generous support of The Pennsylvania Commission for Ag Excellence and the Philadelphia Society for Promoting Agriculture, the Pennsylvania FFA Foundation was able to offer a second grant opportunity to FFA members, advisors, and chapters in the Spring of 2021. The total amount of Learning by Doing Grant money awarded during the 2020-2021 fiscal year was over $58,000 an increase of $36,000 from the 2019-2020 fiscal year.
Grant applications are judged by a group of volunteers including Pennsylvania FFA Foundation Trustees, retired agricultural education instructors, and industry leaders. Applicant names and schools are removed from the application prior to being sent to the judges which allows applications to be judged solely on criteria outlined in the scorecard.
Online Applications
Due Date: November 15, 2021
Grants Awarded: December 21, 2021
Reporting Due: May 1, 2022
Recognition: FFA Summer Convention
Additional Resources:
2021-22 Learning by Doing Flyer
Score Card
Learning By Doing Reporting Form
Advisor's Signature Page
Spring 2021 Learning By Doing Grant Recipients
FFA Members/SAEs

Jordan Below

Braden Boyd

Caleb Bryant &
Peter Modrovsky

Destany Chilson

Courtney Crum

Mason Downs

Gianna Floyd

Rylee Fuller

Gillian Goldstein &
Roz Maciejewski

Abigail Goodenough

Dalton Grumbine

Elizabeth Handlin

Orlan Kelley

Nathan M LaGrelius

Peter Modrovsky &
Caleb Bryant

Adria Russell

Amelia Russell

Angel Sanchez &
Christian Thompson

Benjamin Shaner

Mason Shay

Andrew Snook

Erica Teagarden

Konnor Trimmer

Lucas VanDergrift

Troy Wagner

Blake Watson

Agriculture Educators

Sarabeth Alderfer

Allyson Balmer

Jennifer Balmer

Jessica Barnhart

Jamie Finch

Philip Haussener

Anthony Honeycutt

Dianne K. Jarema

Ayla Miller

Sherisa Nailor

Kayla Pohle

Myken Poorman

Kristen Ramsey

Jasmine P. VanSant

Chapters

Brockway FFA

Grand Canyon FFA

Littlestown FFA

Otto-Eldred FFA
Learning by Doing Success Stories