Our Mission
The Pennsylvania FFA Foundation cultivates partnerships and secures resources to enhance Agricultural Education and FFA.
The Pennsylvania FFA Foundation is affiliated with The National FFA Organization.
History
The Pennsylvania FFA Foundation was established as a 501(c)(3) non-profit foundation in 1984, to support the needs of agricultural education and the FFA. The Foundation has become important to the success of agricultural education and the FFA in Pennsylvania.
2019-2020 Foundation Support
By The Numbers
$414,378.86 Total Support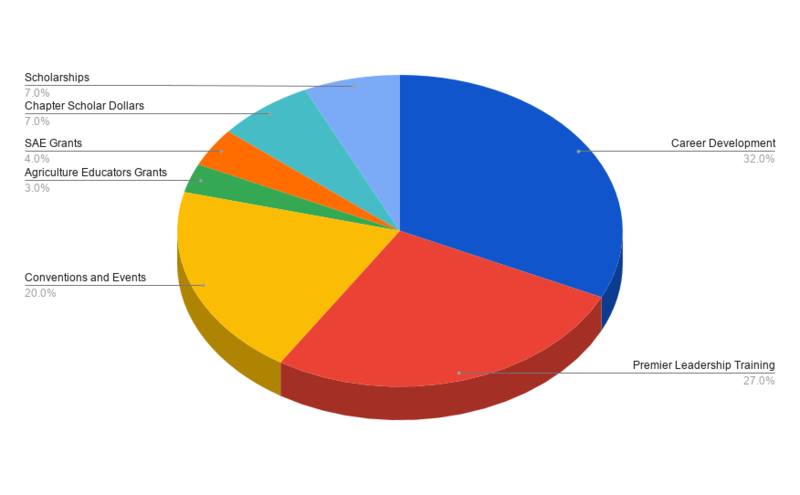 Revenue Sources - Food Sales, Golf Outing and Other Events, Corporate Sponsorships, Individual Giving, Grants, State Funding
Accomplishments - New Website, Solicitation Forms, Social Media, New position, More Funding Sources, Clear and Concise Reporting
Goals - Maximize revenue for current events, Build Individual Giving, Steward Current Donors, Research new revenue sources
What does all of this mean?
$15 per member savings to attend Agricultural Cooperation Establishes Success (ACES) and $100 per members savings to attend the State Legislative Leadership Conference (SLLC)
18 Learning by Doing Grants, over $60,000 in grant funding over four years
$13,000 Scholar Dollars issued
1 out of 3 state officer local chapter visits
1 out of 3 state officer local chapter banquet attendance
Trip funding for all National Convention and Big E trip winners
National Officer Candidate to attend National Convention
Proficiency Awards
Keystone and Star Keystone Degrees
We support Agriculture Education!
How can YOU get involved?
Contact Us
The Pennsylvania FFA Foundation, Inc.
is a 501(c)(3) non-profit organization.

PO Box 157
East Berlin, PA 17316

Sarah Sparks, Executive Director
Cell: 717.781.5780
[email protected]