Concessions and Scholar Dollars
Farm Show (January)
January 9-16, 2021
Farm Show Pizza and Lemonade Concession Stand
Each year the PA FFA Foundation partners with local FFA chapters to sell pizza at the PA Farm Show. Last year members sold over 17,000 slices of pizza and 5000 lemonades! Each person who volunteers in the concession booth will be paid $8.00 per hour worked. Volunteers can include FFA members, parents, advisors, teachers, alumni, ect. If you are interested in volunteering, please sign up using the link provided below.
Volunteer online signup: Coming in Fall 2021

This event is held at the PA Farm Show Complex, located at
2300 N. Cameron Street
Harrisburg, PA 17110
For more information about the PA Farm Show, check out the official website.


If you have additional questions about volunteering, please contact Sarah Sparks at 717.781.5780.

If you would like to support our efforts at the PA Farm Show by becoming a partner with the Pennsylvania FFA Foundation, please contact Sarah Sparks at 717.781.5780 or [email protected]
Ag Progress Days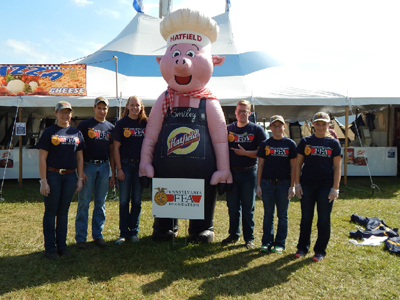 Event Date: August 11-13, 2020 (CANCELLED)

Pennsylvania FFA Foundation Concession Stand

2019 Sponsors: Clemens Food Group, Herr's, Knouse Foods, and Packer's Concessions
PA FFA Members from across the state serve pizza and pork products to the crowd of 42,000 visitors at Ag Progress Days.

Proceeds earned through this event support activities of PA FFA members.
Participating chapters earn scholar dollars for each each hour chapter members work this event.
Ag Progress Days is held at:
2710 West Pine Grove Road
Pennsylvania Furnace, PA

For more information about Ag Progress Days, checkout the official website.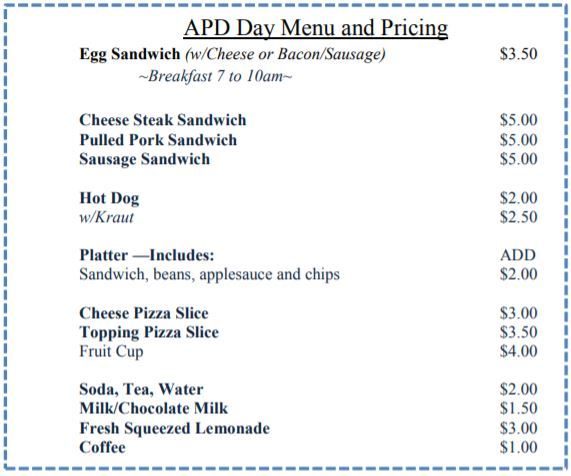 * Menu items and prices subject to change.