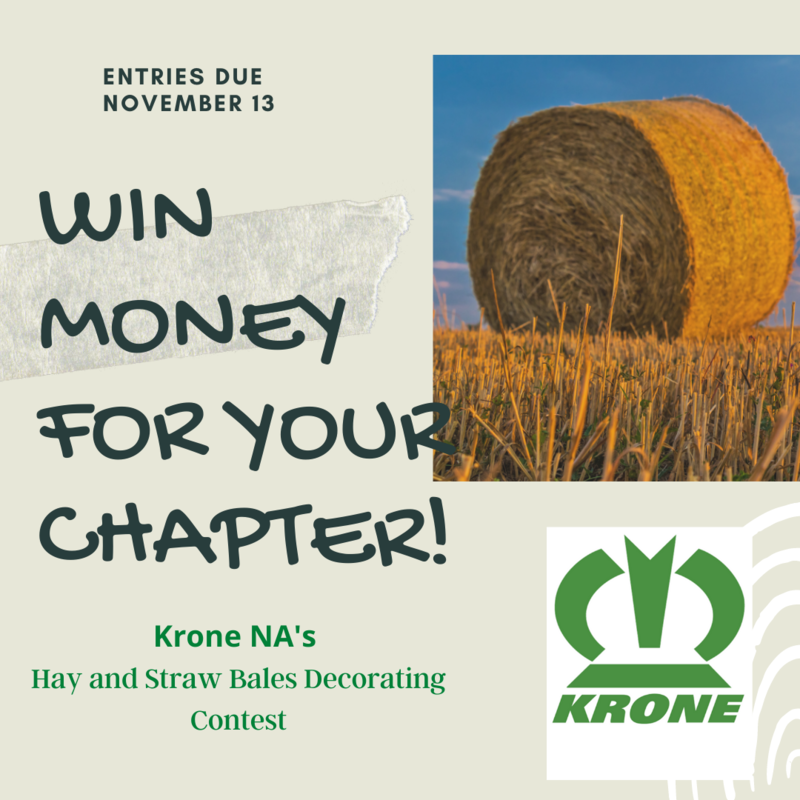 Due to the HUGE success of their 2019 FFA Bale Contest, Krone North America is hosting its second annual bale decorating contest for all FFA clubs throughout the United States and Canada. Krone Battle of the Bales 2020 entries are due by November 13, 2020. For more information, check out their flyer.
LEARN BY DOING GRANT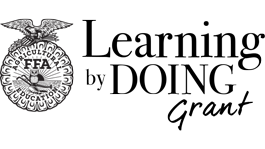 We believe agricultural education students should have the maximum opportunity to grow and succeed, leaving high school as prepared as is possible for the world ahead. That's why we believe in enhancing the curriculum, the opportunities and the tools available in agricultural education classrooms through the Learning by Doing Grants.

The Foundation has awarded $66,327.10 to support agriculture education through this grant program over the last 5 years. With the support of Pioneer Seeds and concessions sales at Ag Progress Days and PA Farm Show, the Pennsylvania FFA Foundation was very excited to award $12,000 in 2019, to Learning By Doing Grant winners.
Applications Due: November 15th
Awarding of Grants: December 21st
Impact Report Due: May 1st
Recognition: FFA Summer Convention

Additional Resources:
2020-21 Learning by Doing Flyer
2020-21 Score Card
MIDATLANTIC FARM CREDIT VIRTUAL SHOWCASE CONTEST

Due: October 16, 2020
MidAtlantic Farm Credit recognizes how important the fair experience is for youth animal projects. They are offering an exciting opportunity to enter their essay or video contest with your youth livestock, dairy, horse, poultry, or rabbit projects. The contest is open to 4-H and FFA youth, ages 8-18 who reside in a MidAtlantic service area.
The Essay and video submissions are due by 11:59 pm on October 16, 2020, and must be submitted electronically. For more contest details or to submit your essay or video, visit the MidAtlantic Farm Credit Virtual Showcase Contest page.
GRANTS FOR GROWING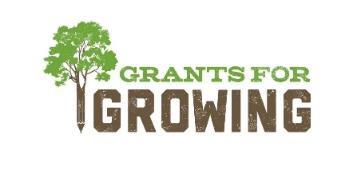 Application open: March 1, 2021
Applications due: May 15, 2021
https://www.ffa.org/grants-for-growing/

The Grants for Growing program will feature a new scope and timeline for 2020. FFA chapter advisors can apply for funding to support one of three areas: Grow Your Classroom, Grow Your FFA Chapter, or Grow Your Ag Awareness. To access the Grants for Growing application, you must have an FFA.org username and password.
AGRABILITY PA CONTEST
The AgrAbility PA Contest for Pennsylvania FFA Chapters is closed. Check out the AgrAbility website for ideas and information.
LIVING TO SERVE GRANT
"Everybody can be great…because anybody can serve." ~Martin Luther King Jr.
How is your chapter Living to Serve? FFA offers Day of Service Mini-Grants for $400 to support chapters in planning community service events. The application is easy, and you can apply for funds to support a one-day service event that focuses on topics such as Community Safety; Hunger, Health and Nutrition; Environmental Responsibility; or Community Engagement.
Find out more at https://www.ffa.org/LivingtoServe/grants
If you have questions, the Living to Serve team is here to help. You can email them at [email protected].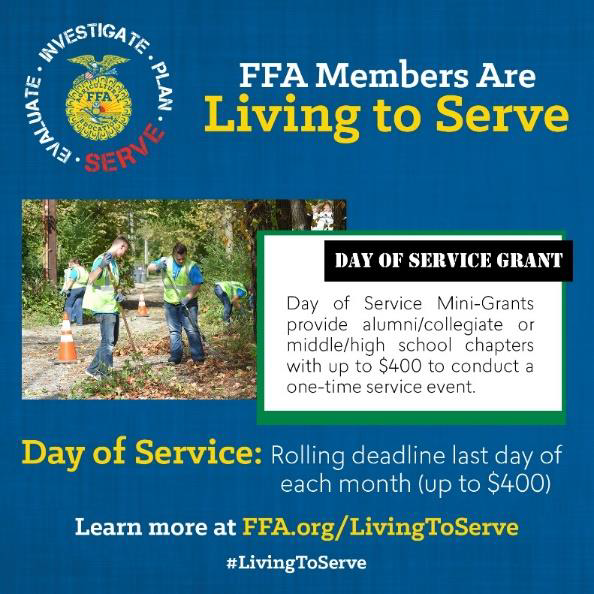 AMERICA'S FARMERS GROW RURAL EDUCATION
The Grow Rural Education program, sponsored by the Bayer Fund, allows eligible farmers to nominate their local public school district for grants to help enhance STEM education. Once nominated, school districts submit applications to compete for $10,000 or $25,000 grants to help fund projects that enhance their STEM curriculum.

To get more information on the program, please visit https://www.americasfarmers.com/grow-rural-education/.

Applications period: January 1-April 15
NATIONAL FFA SAE GRANT
Current FFA members can start or expand a Supervised Agricultural Experience (SAE) project with a grant from National FFA. A limited number of grants of $1,000 each are available to current FFA members each year.

To learn more and to apply, visit https://www.ffa.org/participate/grants-and-scholarships/sae-grants/

Application period: October 1 - November 15, 2021
NEW CENTURY FARMER CONFERENCE
The New Century Farmer conference brings together FFA members and alumni between the ages of 18-24 for an all-expenses-paid week of exploring diverse farm business operations, learning from industry experts, and networking with other young producers. New Century Farmers also develop a vision statement that will guide the future of their operation.
This is a powerful professional and personal development experience that is offered at no cost to members. More information about the conference can be found here. Applications are due March 1st and can be found here.
FORMULA OF CHAMPIONS SHOW FEED - CLUB REWARDS
Turn Formula of Champions proof of purchase into club funds by collecting the proof of purchases and submit them with a completed submission form for credit to your club's Formula of Champions Club Rewards account. Each proof of purchase is worth $0.25. For more information, check out the website.
USDA Youth Loans
Application
Deadline: none
FSA makes loans to individual young persons (ages 10-20) to start and operate income-producing projects of modest size in connection with their participation in 4-H clubs, FFA, a Tribal youth group, or similar agricultural youth organization. The project being financed with an FSA Youth Loan needs to provide an opportunity for the young person to acquire experience and education in agriculture-related skills. The maximum loan amount is $5000 and must be repaid over a period of 1-7 years. For additional information, click the application link above.