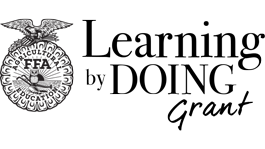 We believe agricultural education students should have the maximum opportunity to grow and succeed, leaving high school as prepared as is possible for the world ahead. That's why we believe in enhancing the curriculum, the opportunities and the tools available in agricultural education classrooms through the Learning by Doing Grants.

The Foundation has awarded $66,327.10 to support agriculture education through this grant program over the last 5 years. With the support of Pioneer Seeds and concessions sales at Ag Progress Days and PA Farm Show, the Pennsylvania FFA Foundation was very excited to award $12,000 in 2019, to Learning By Doing Grant winners.

To view pictures of 2018 recipient projects, visit our photo album.
Applications Due: November 15th
Awarding of Grants: December 21st
Impact Report Due: May 1st
Recognition: FFA Summer Convention

Additional Resources:
2019-20 Learning by Doing Flyer
2019-20 Score Card