Ardent Mills Apprenticeship
Ardent Mills Apprenticeship Recruiting Presentation
Ardent Mills Apprenticeship Summary
Growmark FS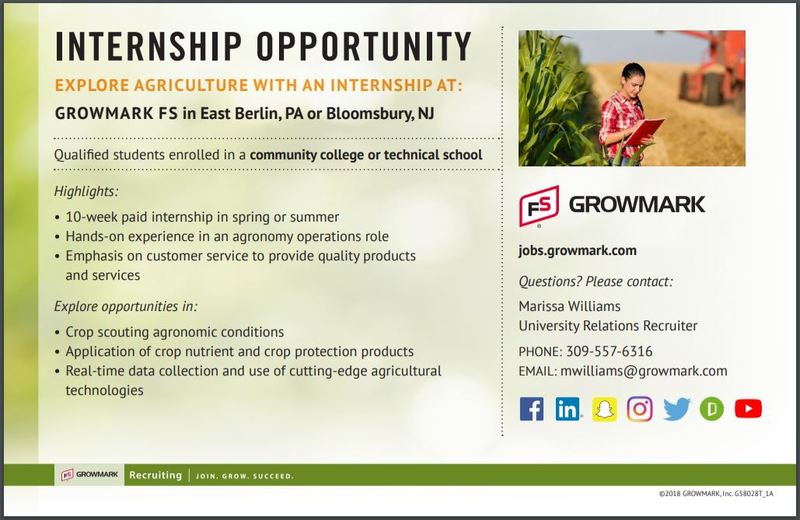 Cargill Scholarship
Application: Cargill Scholarship Application
Deadline: March 4, 2021

The Cargill Global Scholars Program is a distinctive, two-year leadership development program that provides financial support, in addition to leadership development training and one-on-one mentoring. For more information, check out this link.
https://www.cargillglobalscholars.com/participating-countries/us-faqs/
Center for Dairy Excellence Scholarship
Applications open March 1, 2021

Dairy Leaders of Tomorrow Student Scholarship
Application: https://www.dairyleadersoftomorrow.com/scholarships/student/
Due: July 1, 2021

Dairy Leaders of Tomorrow Teacher Scholarship
Application: https://www.dairyleadersoftomorrow.com/scholarships/educator/
Due: July 1, 2021
Culvers
Culvers is awarding a total of $15,000 to three FFA chapters to help fund educational projects and initiatives. An essay of up to 1,000 words could win your chapter up to $7,500. Click the link below for more information and to apply.
Application: https://www.culvers.com/essaycontest
Due: April 19, 2021
DEKALB
The DEKALB Agricultural Accomplishment Award is awarded to one FFA student per chapter who exemplifies scholarship, commitment, work ethic and passion for pursuing a career in agriculture. Students can be nominated to receive this award by their FFA advisor.
Application: https://www.dekalbasgrowdeltapine.com/en-us/dekalb/performance/ag-accomplishment.html
Farm Credit Foundation for Agricultural Advancement
Applications
Opens: September 24, 2021
The Farm Credit Foundation for Agricultural Advancement is offering scholarships to high school seniors or those currently enrolled in a two or four-year higher education program, with plans to pursue a career in agriculture. Individuals living in the following Pennsylvania counties are eligible to apply - Berks, Bucks, Carbon, Chester, Dauphin, Delaware, Lebanon, Lancaster, Lehigh, Monroe, Montgomery, Northampton, Philadelphia, Pike, Schuylkill.

Future Leaders of Agriculture & Veterinary Sciences 2020 Scholarship Program
Application www.vetericyn.com/scholarship
Due: expired
The Vetericyn® team is excited to announce the Future Leaders of Agriculture & Veterinary Sciences 2019 Scholarship Program! Two scholarships of $1,500 will be awarded to two graduating high school seniors to help in their pursuit of higher education in the field of agriculture, including animal health and food science. Conditions of Eligibility.
National FFA Scholarships
Due: Multiple due dates
FFA Scholarships for All - Application due January 14, 2021
The National FFA Scholarship page has multiple scholarships listed. Check the page often so you don't miss out on a scholarship opportunity. https://www.ffa.org/participate/grants-and-scholarships/scholarships/
National Corn Growers Association
Application: https://www.ncga.com/key-issues/other-topics/scholarship-programs
Due: December 3, 2021
The grower-members who make up the National Corn Growers Association (NCGA) are committed to broadening educational opportunities and open doors to students who are passionate to serve rural America and keep their family farms thriving. In 2021, they expanded their scholarship offerings for four distinct audiences:
NEW! Research Students
Technical School/Community College Students
Undergraduate Students
Graduate Students
To apply for the scholarship, students or a parent/guardian must be a member of the NCGA.
PA Farm Show Scholarship Foundation
Application: https://pafsscholarshipfoundation.com/apply-for-a-scholarship/
Due: September 15, 2021
The Pennsylvania Farm Show Scholarship Foundation will award cash scholarships to outstanding students who have participated in the Pennsylvania Farm Show. This is a highly competitive, prestigious grant program and to be considered it is important that the applicant adheres to the specifications and requirements of all application procedures.
Pennsylvania Livestock Association Scholarships
The Pennsylvania Livestock Association offers several scholarships to youth. The complete list of scholarships can be found on the PLA website. Two of their awards are featured below.
Youth Awards
Application
Due: August 1, 2020
Youth Awards are presented to outstanding 4-H and FFA youth and selected from a field of candidates submitted by county extension personnel and vocational agriculture teachers throughout the Commonwealth. Winners receive a plaque and a monetary award.

Outstanding Pennsylvania Livestock 4-H and FFA Members Recognized at KILE
Application: https://www.palivestockassoc.org/uploads/3/4/5/0/34508188/20_kile_scholarship_app.pdf
Due: April 15
The Pennsylvania Livestock Association presents educational scholarships to outstanding young individuals on the basis of outstanding leadership skills, a keen interest in the livestock industry and an involvement in KILE, and support of PLA among other traits. Interested candidates should complete a detailed application, including academic transcripts and personal references as well as a narrative about their livestock involvement.
A student may receive the Pennsylvania Livestock Association Scholarship award one time only. Recipients of scholarship awards will be notified individually by the PLA Scholarship Committee. The scholarship will be presented at the KILE Opening Ceremonies held in conjunction with the Keystone International Livestock Exposition. Each scholarship will have a value of at least $1000.
Pennsylvania State Association of County Fairs
Application: www.pafairs.org
Due: expired

The MSGR. JOHN W. MIGNOT MEMORIAL SCHOLARSHIP PROGRAM is annually available to students who are Pennsylvania residents, currently (or had been previously) active for at least 2 years in a fair that is a member of PSACF (PA State Association of County Fairs), and will be attending college (or other types of an institution of higher learning) the Fall semester of the current year. The fair where you are/had been active will endorse and submit your application for consideration. The website www.pafairs.org has the Scholarship Application and offers a complete list of member fairs.
Purina Giving Greatness Scholarship
Application: https://www.purinamills.com/campaigns-and-events/show-scholarship-application
Due: November 1, 2021
Purina is excited to announce the 2022 Giving Greatness Scholarship! One winner from five categories will be awarded a $2,000 educational scholarship. The five categories include 1. Show Cattle, 2. Show Swine, 3. Show Sheep or Goat, 4. Show Poultry, 5. Show Rabbit. Good luck, seniors, you're on your path to greatness!
Soy Scholarship
Application: https://soygrowers.com/about/awards/soy-scholarship/
Due: expired

The Soy Scholarship is a $5,000 one-time scholarship award presented to a current, eligible high school senior planning to pursue a degree in agriculture at an accredited college or university. High school seniors may apply online in the fall of each year. The final selection will be made in January. The student will be notified late-January, with an official announcement to follow. Applicant must be a child or grandchild of a State / ASA Member.
Applicants must fill out an online application.
Southeast PA Beef Classic Scholarship
Application: Southeast PA Beef Classic Scholarship
Deadline: expired

The Southeast PA Beef Classic Scholarship program was designed to show our appreciation to our exhibitors by providing support to participant(s) of the jackpot show to assist in furthering their educational endeavors. The scholarship fund will be awarded to one individual in the amount of $500.00. The scholarship will be awarded between the heifer and steer shows at the 2019 show and the individual does not need to be present to accept the scholarship.

To be eligible for the scholarship applicants must currently be enrolled in a post-secondary program and have shown at least three years prior to the year of the application. Please fill out the following application along with a 1,000 essay explaining how you will utilize the skills and knowledge you gained through your cattle showing experience in the future.
Sullivan Supply Scholarship
Application
Due: expired
Each year, Sullivan Supply offers 20 scholarships of $1,000 each to youth displaying a great passion for the livestock show industry and/or livestock production. Candidate must be a graduating high school senior or a college student 21 years of age or younger; resident of the U.S. or Canada, and not a previous Sullivan Sullivan scholarship winner. An agriculture major or a career goal in livestock is not a requirement but a continued future involvement in the livestock industry is. Applications are due March 15 each year, and students can apply online starting January 1st, where they can also download and mail a paper application.
Targeting Excellence Scholarship
Application: http://targetingexcellence.org/scholarship_info/
Deadline: expired

Scholarships will be awarded to both undergraduate and graduate students enrolled in an agricultural curriculum at an institution that offers degrees in agriculture. Applicant must be accepted or enrolled in a College of Agriculture which offers courses in food animal production. Applicants must be enrolled in classes effective September 1. For more information and to apply, visit the scholarship website at http://targetingexcellence.org/scholarship_info/